I do Taekwondo and have been disciplined...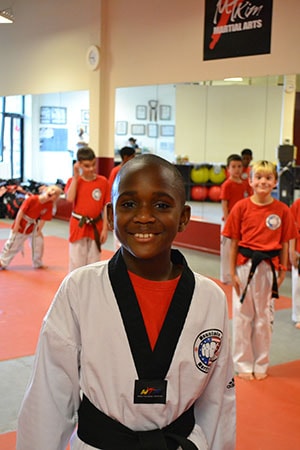 I asked my mom about what does physically and mentally mean, and she stated how my body looks and feels is physical change and how I act is my mental. I began Taekwondo when I was in kindergarten and have grown in size and strength. My kicks are stronger and I can run and play longer. Now the mentally part is hard to describe. A great example would be I began running track recently and have noticed the other kids do not follow the rules. We even had to complete extra exercises because of it. This made me upset. if they just follow the rules then everything will be okay. My mom told me this is because I do Taekwondo and have been disciplined. I never thought of it that way. Master Jeon always tells us to do what is expected and I guess without knowing it I do. Now I am not perfect and sometimes get into trouble, but it is great knowing that I am able to follow directions, do what is right even when others are not looking and encourage others to do the same.
I can't say enough...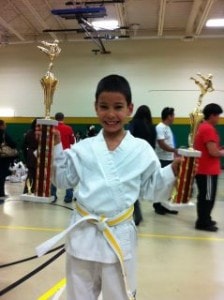 I can't say enough. Master Jeon's teaching methods are by far superior to anything I've seen before. His attention to meticulous details and classroom control is phenomenal. If you want to fill a status quo of saying you are learning TKD, go to the Rec center. BUT if you want to learn the real deal under a great teacher, this is the place for you. My son loves this school to no end, and it is not because he goes there to play because he doesn't. He goes there to "train"… Being big for his size, he was clumsy, inflexible, and slow in his activities. 6 months into it, the boy does wicked round kicks over his head and breaks ¾ inch boards with a fast punch. Call it what you call it, but my son now has lots of confidence, discipline, respect, and understand what hard work and practice means. Thank you Master Jeon.
– Parent of Mazzen C. (7 years)
Conor has become more focused and self-aware. His concentration has improved. Being in Tae Kwon Do at Mt. Kim has been a positive experience in every way.
– Parent of Conor S. (15 years)
Chernet is growing in confidence. It has had an impact on his creative writing + public speaking a school.
– Parent of Chernet E. (8 years)
She became very active and responsible...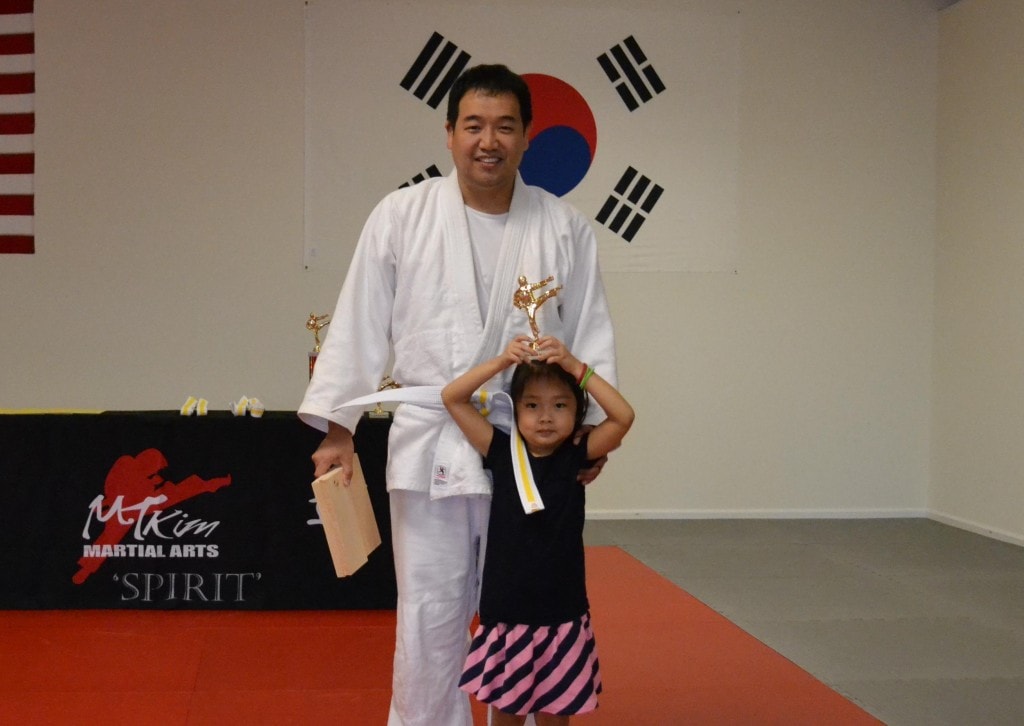 This is a great place for kids and adults. Very Clean and spacious~ After school room is very well organized as well. Master Jeon is highly qualified and more importantly know how to teach and make it fun for all age groups. . I signed up and my daughter signed up too. She became very active and responsible for what she is doing and respecting people around her. I am very happy to see the result of attending myself and my daughter to the classes. CMA class is the class Master Jeon created with essential points of Taekwondo, Judo and Hapkido. It's also very good for fitness purposes. Ms.Jeon and Master Jeon foster an incredible sense of responsibility, love, kind and mutual respect in the students they instruct. Thank you !!!
Jaymes has done great improvement focusing on tasks in class and at home.
– Parent's of Jaymes R.(6 years)
Quinn continues to demonstrate improved focus and discipline. He is also showing greater self-confidence.
– Parent's of Quinn F.(6 years)
more focused...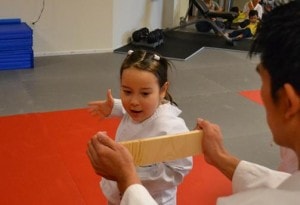 Saya is more focused than ever!!
– Parent's of Saya G.
Sage and Kian are developing STRONG study habits.
– Parent's of Sage & Kian Mc.(9 / 7 years)
After learning Taekwondo, Addis learns the spirit very well. He doesn't say "Give up" easily anymore.
– Parent's of Addis N.(6 years)
It has been nothing but a great experience...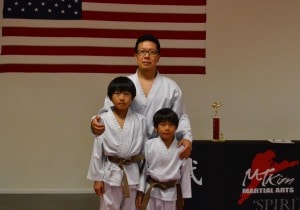 I've been taking TKD class with my 2 sons at the Mt. Kim MA Spirit in Manassas for several months now. It has been nothing but a great experience for me and my boys. Master Jeon certainly knows what he does and he does it really well. He's kind to kids but he can also be strict to them, which was what I was looking for. The facility is clean and good size. I'm planning to keep taking classes at this place until (or beyond) we all earn black belts!
– The Jang family
William has shown great improvement on being self-motivated!!
– Parent's of William S. (14 years)
Misganaw continues to improve his flexibility. He also is able to focus for longer periods of time.
– Parent of Misganaw E. (6 years)
seen improvements in self-confidence...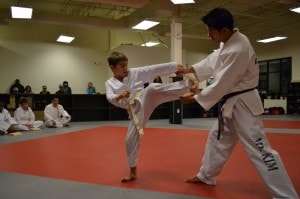 We have seen improvements in self-confidence and that self-confidence has already been seen at school.
– Parent of D.J. P. (8 years)
He is calmer and listens better to instructions. Jeffrey helps with everything and has more patience.
– Parent's of Jeffrey Z.(5 years)
Jayden has improved his attitude. I have noticed that he pays attention in class better than he did before.
– Parent of Jayden H. (6 years)
began to show more focus...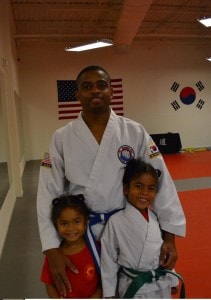 Mt. Kim Martial Art "Spirit" in Manassas, VA, is a school (DoJang) for those that seriously want to learn how to become tactically and proficiently versed in the Martial Arts (particularity Taekwondo, Hapkido, and Judo). Master Jeon, is a well qualified/experienced instructor and practitioner with over 20 years dedication to the Arts. He holds the right qualities that a Master Instructor should have when teaching children and adults alike (i.e. patients, discipline, morals, and understanding). His instruction keeps all students (regardless of age) entertained and captivated. My daughters and I have been enrolled in this school since Sep 2011. I can report that after a 16 year hiatus in practicing the arts, in just 1 month I lost 15 lbs, and my 4 and 5 year old daughters began to show more focus in everything they put their minds to. So, I fully recommend this school for those within the area, anyone who has a desire or is curious of the Martial Arts.
– The Henry family
Henry is very encouraged by Master Jeon's teaching. Henry has become more focus since he has been attending you training. I have noticed how he pays attention more and I don't have to continue to repeat myself. He has been able to do better at school. Henry is able to work on homework assignments after school which has helped him do better in class
– Parent's of Henry B. (6 years)
We are really impressed how he finishes all his homework and how you guys helping him do better at school and also at home. Thank you so much! :)
– Parent of Jaymes R. (7 years)
more responsible ...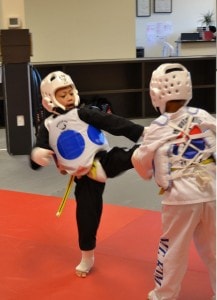 Jayden is more responsible with his homework. He has been reminding himself of due dates and is more confident in completing his work independently.
– Parent of Jayden D. (8 years/ After School)
We love everything about this program. Our children have grown very well and we have seen only positive changes.
– An anonymous parent from Student's Satisfaction Survey
Andrew has been trying hard to listen and not fight with his brother.
– Parent of Andrew P. (5 years)
I like that Master & staff hold students to HIGH LEVEL OF DISCIPLINE. It gives GREAT PEACE OF MIND that your program & staff is VERY DILIGENT with school pick ups!
– An anonymous parent from Student's Satisfaction Survey
noticed improvements in his behavior...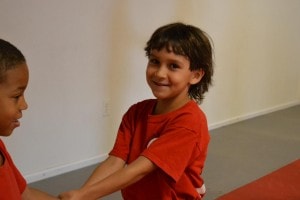 We are very impressed with Joseph's physical improvements in both balance and control of his movements. We have also noticed improvements in his behavior, especially using good manners and being polite. Joseph has willingly accepted more responsibility at home with chores, and put forth great effort into each of his tasks.
– Parent of Joseph D. (6 years)
seeing how much fun...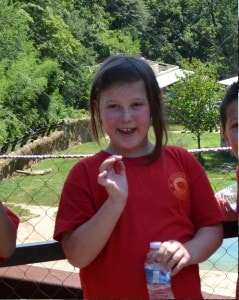 Thank you so much for the pictures from summer camp! We really enjoyed seeing how much fun Val had!
– Parent of Valerie M. (7 years) on facebook page
Both the staff and the program are wonderful. My kids had several options to choose from and they always vote for you for both summer and after school. I couldn't ask for a better program.
– An anonymous parent from survey
B said he had a fun time at laser tag today. Thanks for arranging such a great trip!!
– Parent of Brendan B. (6 years) on facebook page
has been more respectful...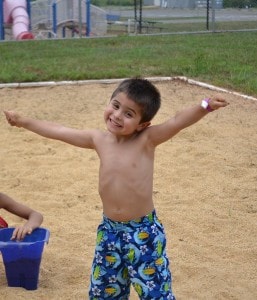 Jacob has been more respectful and listening A LOT MORE at home. Focus more at whatever task he is given
– Parent of Jacob W. (4 years)
My kid loved the summer camp program. Thursday field trips were something he really looked forward to. Also the Anatomy lessons during the summer were great! Keep up the learning lessons.
– An anonymous parent from Student's Satisfa